Detox Fans Look Out!
This Smoothie is for all detox fans! Chlorella & Stinging Nettle are super power plants that help your body to detox and restore. Perfect ingredients for a smoothie.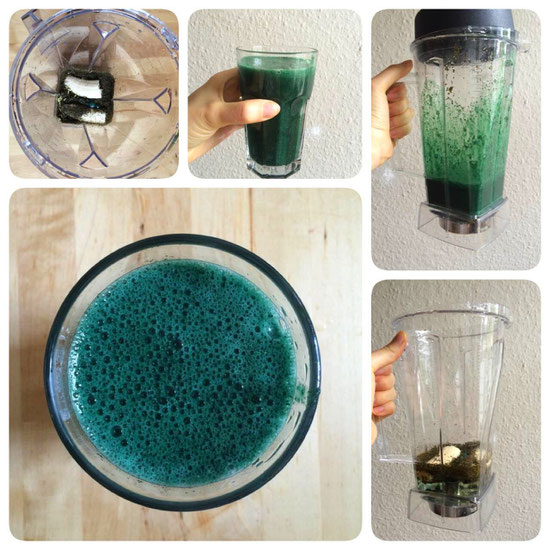 Chlorella is a micro-alga that is full of micro-nutrients. It has the highest amount of chlorophyll ever measured in plants. This "green blood" is protecting and regenerating our cells and restoring the acid-base balance of our body which is essential for a healthy alimentary and circulatory system.
Stinging Nettles are weeds that we find in our gardens - if we don´t root it out we can benefit from it´s detoxing and healing mechanisms of action. Plus: This wild herb is food for butterflies and catterpillars.
Read more about these super power plants in one of my upcoming articles. 
Therefore Chlorella and Stinging Nettles are perfect for Healthy Power Smoothies. Chlorella has a quite intense taste, so I only make a small amount of that smoothie. When I´m home in the countryside I use Stinging Nettle Leaves for my smoothies everyday. I also like to dry the leaves or put them into the freezer - perfect when you are lazy at times and for the winter. But when I´m living in the city like I do right now, I only use the seeds that you can either buy in a natural market or online - or that you can gather and dry when you´re making a trip to the countryside.
So that´s what I put in my Chlorella Nettle Smoothie today:
Banana + Chlorella Powder (or tablets) + Stinging Nettle Seeds + Water. 
Not very "Hmmmm!", but the taste is totally fine. If you only drink one glass of it, it should be relative tasty. Plus: It´s super healthy, so just give it a try!