The easiest way to a happy mind
I´m a pretty relaxed person, but there are things that make me nervous. Certain situations or people literally tense my body. For a while it even stressed me out before the situation happened because I knew what I had to expect. But a few years ago I learned to handle it by using a simple technique that calms my body down: Tapping acupressure. This technique that I was taught by my naturopaths is also called EFT (Emotional Freedom Techniques) which gets to the heart of it: It helps you to free yourself from negative thinking patterns and thereby from negative emotions.
What is the principle of it? Have you ever heard of famous athletes doing mental self-motivation and becoming faster, stronger, more victorious by it? Yes?! Well, that´s because you strenghten your mind and thereby your body with positive thinking - and tapping acupressure is a good way to do it.
How is it working and what do I need? All you need are your fingers, harmonised phrases and the will to do it. There are acupressure points all over your body that have different meanings and are in correspondence with other parts of your body. Some points are more useful to calm down, others to give self-confidence, trust, hope etc. On the picture below you see the ones that I am using in a regular base. It´s helpful to tap onto these points before or in stressful situations. For creating a general base you should do tapping acupressure every night before falling asleep. Studies have shown that your mind is more receptive to new thinking patterns right before falling asleep in the state between being awake and asleep.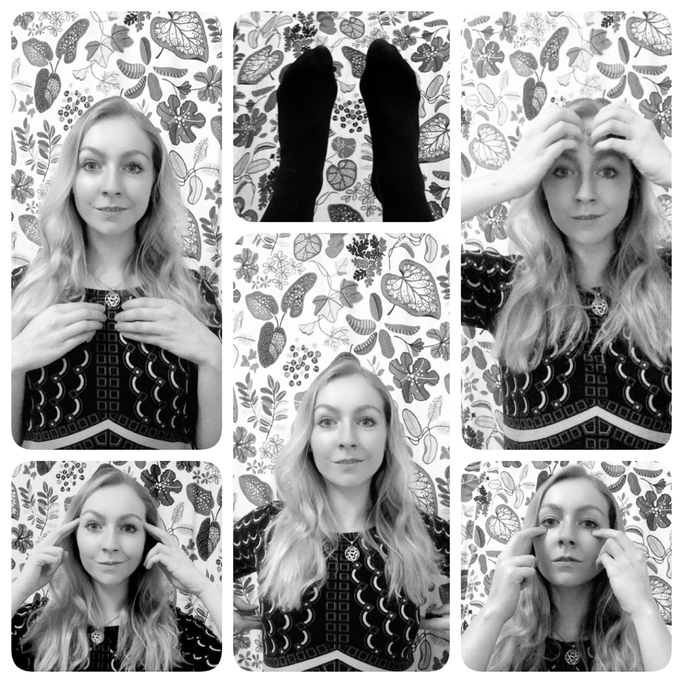 What phrases do I need to say? The phrases that I use depend on what I need, what deficiency I have a that moment. To relax I usually say repeatedly: "I stay calm and composed." For getting the feeling of universal trust this phrase might be the right for you: "There is eternal love for me." For strenghtening your will to succeed: "I believe in myself."
The phrases can be really simple like the ones above, but they can also be really personal. That´s why I´m not telling you my favorite ones. Everybody has to find harmonising ones for themselves. The messages of wisdom cards can be useful or you frame the phrases completely by yourself. They must be positive without any negation. The more precise and thereby simple the better.
Here you find two decks of wisdom cards with beautiful phrases that I can truly recommend. By clicking onto the picture you go directly to amazon. You find the UK link at the left and the German link on the right side:
Beautiful set of angel wisdom cards by Doreen Virtue. There are plenty of card sets by her, but this is my favorite one that I use regularly.
Wunderschönes Orakelkartenset von Doreen Virtue. Es gibt eine ganze Reihe Kartensets von ihr, doch ich mag dieses hier besonders und benutze es gerne.
Please stay tuned for my upcoming article about Oracle Wisdom Cards and how to use them. I´m gonna present you more card decks and explain how they can enrich your life - by helping you to start following your intuition and be good to yourself.