Challenge accepted
2016 was the cosmical year of Mars - fraught with tension, pugnacious, with conflictual potential. The year of perseverance. That´s what it was for me. It was a hard year, a tearful year, a happy year, a victorious year. It made me realize how strong I am and how much I have grown mentally and spiritually. As kitschy as it may sound: I survived every storm, sailed my boat through the most capricious waves and didn´t drown.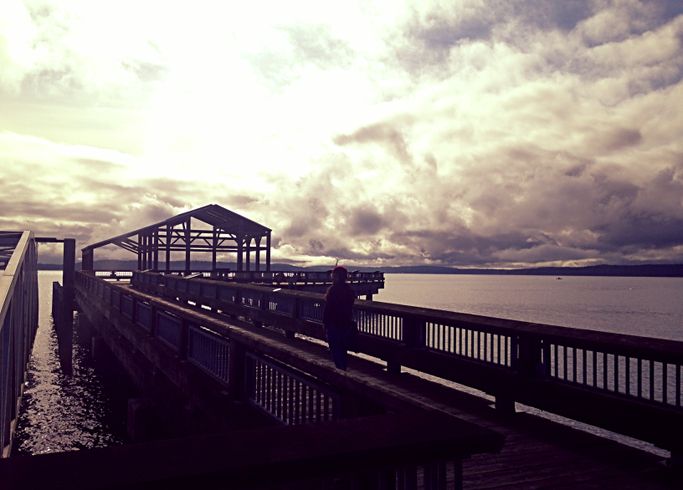 There were a bunch of situations that brought me over my known limits. Some of them were rolling over me one after the other as if God or the universe wanted to try me. I am thankful for each of these situations even though some of them shocked and unsettled me. They showed me who I can really count on, how stable I am and how independent. I can survive and I will - no matter what.
There is something that showed me that you can learn to master your mind: As sad as I was in some moments, I still had a strong basement of happiness that gave me stability. I could laugh soon after again. I felt happy soon after again. And I was already thankful for the situation in the moment it rocked me - because I knew that I wouldn´t let it kill me. I would take it, learn from it, don´t forget it and go on.
Because 2016 was also a victorious year - every battle was worth fighting for it -, here are some of my happiest and favorite moments of the last 12 months that come to my mind right now. I hope that you get a feeling for what I felt in these moments and that they might inspire you. I send you blessings. 
Xo. Diana
May, Seattle. After I had confronted a very manipulative person and had realized that this end would also bring a new beginning, I felt free. I knew that it was the right thing to do and that I was out of her and her husband's control. They couldn´t retain me anymore. In that moment I didn´t feel any pain, I didn´t feel any fear, I didn´t feel any limits. I picked up my friend Jessica at her house and drove to one of my favorite lakes in the area. It was maybe 12° Celsius (53° Fahrenheit) and I just put my clothes off (bikini underneath) and jumped into the lake. I was swimming in it for a whole while, twilight, misty rain, only anglers at the pier, trees around. It was beautiful. My friend laughed and called me crazy. But I didn´t feel any cold, I was fearless and invincible. I had the whole universe in me.
May, Seattle. That weekend I also got back in touch with a certain person. I snapchatted him since I felt fearless and realized that I didn´t have anything to loose. It was good, I prevailed and didn´t regret. I was free.
April, Seattle. My friend Erika picked me up in the early morning and we took the fairy from Downtown to Whidbey Island and drove to Port Townsend. It was a magical day at the sea. We roamed around the town, the old buildings, the harbor, the national park and the beach at the fort. We took pictures and just enjoyed the day.
Whenever, Seattle. Hiking in the area alone or with friends, walking under old huge beautiful trees, next to giant ferns, in foggy daybreak or until misty twilight. The sun always found a way to get through the leaves and branches, projecting an erratic light that made the dust particles appear as magical as pixie dust. I always felt connected to the divine that showed it's face in wild nature.
September, Hamburg. My friend Kaspa, her brother and me were doing a canoo tour along the Elbe river. We had to jump out of the boat into the mud to overcome trees that were blocking our path twice. It was fun to do things that you're not used to. When we were paddling back we were calling the other boats out to race. And we won! What a great feeling of ridiculous triumph! We are the winners, you are the loosers... Well, you know what I mean. We just had fun and were taking crazy snapchats.
Summer, North. My mom picked wild strawberries for me and put them on the table for that I would find them after waking up. There is no little gesture that I love more. Whenever she did this in the past I felt like I'm someone special to her. Past.
Winter, Dresden. When I got a little package from my friend Kaspa - what inside: a handwritten book = a very long letter = her thoughts.
Autumn, Dresden. When I was phoning with my friend Ilka and she made me laugh so hard. I was walking along the pavement and you could feel that it was autumn, the wind smelling like farewell, the leaves falling down.
The North or FaceTime. Spending time with my family and making grimaces with my adorable nieces and nephews, singing and dancing with them.

Having nerf gun wars with my little ones, going to the park with them and watching them play, bringing them to bed and thereby cuddling them, singing German lullabies to and with them and answering their many questions.

Every day. Knowing that I've got the most wonderful friends in the world. The mentioned ones as well as old ones and new ones. Here and there. From four different continents. Our hearts bond. I'm proud of our friendships that are characterized by faith, love and loyalty. And of course a good sense of humor for all kind of weird, crazy and funny situations. I'm happy that 

Ilka and me have our 12th anniversary this year, Cyrielle and me our 11th, Kaspa and me our 10th.

Whenever, wherever. Walking around, being in nature, hiking, moving, dancing, laughing, meditating, feeling the divine in the forrest... Being now - and therefore being happy.
I won't tell you now, but one day. It was a wonderful day.