Plans are ideas, nor more nor less
Before I took my flight to the Emerald Island, I didn´t post where I was about to go. I had a plan and was excited when telling my friends and colleagues about. But I knew from experience that plans can always change. And so they did.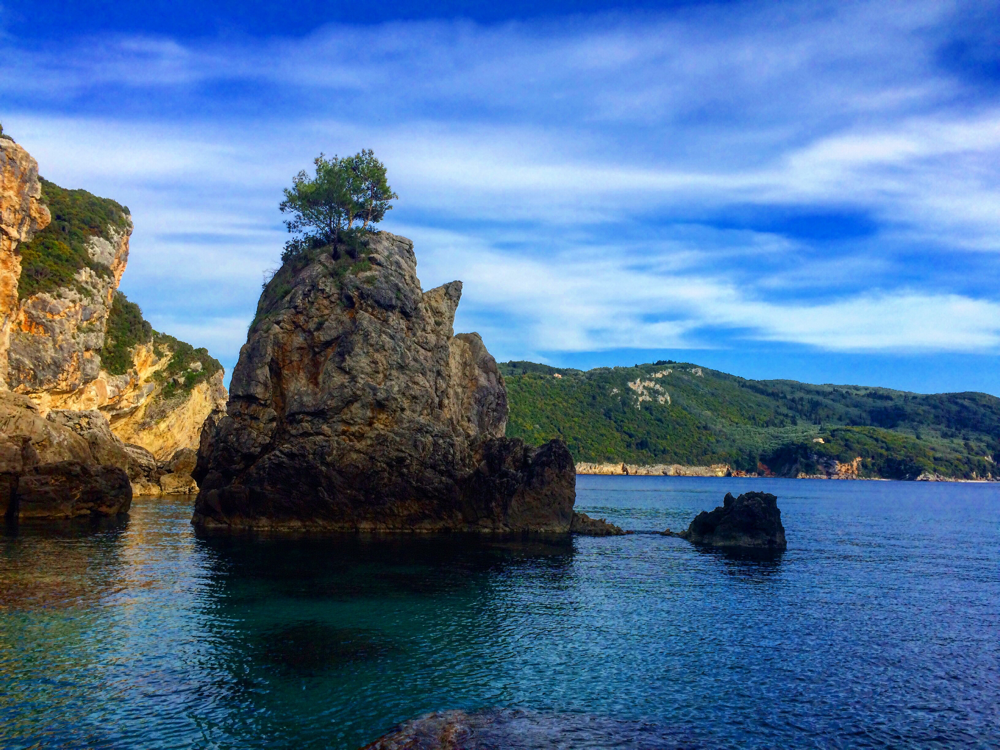 When I booked my flight to Corfu, a Greek island in the Ionian sea, I had a plan: I would work on an ecological farm for at least one month, possibly three. My only reason was my will to learn, since I already had had many adventures before. I checked the weather, history and vegetation of the island, went to Globetrotter where I got a tent, air mattress, travel pillow and sleeping bag for my journey, and actually got everything stuffed into my big colorful suitcase - which was a miracle itself. I felt like a master of packing.
I expected to work hard during the week and explore the island on the weekends. Seeing the island in daylight for the first time gave me a great feeling. It was so beautiful! Even though your stomach had to get used to the endless serpentines that went up and down, up and down, in sharp bends. But soon after my arrival (I actually stayed on the farm for one week), I realized that this was not my place to be. There were different reasons and I considered accurately before finally choosing for myself: Should I stay or should I go? It was about being truthful to myself and not about trying to please others.
I had saved money for this, had been motivated to do this, had had a reason to be at this place. But was that enough? I started listening: My intuition told me to leave and was pretty clear about it. My heart told me that my intuition knew best. And my mind appeased me by reminding me that I didn´t have to proof anything to anybody. So I left and did what was best for me after all.
I rented a studio at a different part of the island, went to the beach daily for lying on the warm sand and swimming in the crystal clear water - and worked sedulously on my computer. A beach vacation with home office hadn´t been my plan, but I was here for a reason, and so I enjoyed the beautiful sea, the warming sun, the adventurous walks, the cooling pool and my trip to Corfu town.
But being honest with you: On my first day in the studio I felt as lonely as I had rarely felt before. I had had a plan and now I was about to spend a couple of weeks in Greece by myself, rarely any people around. I had been travelling by myself all the time, that was not the point. The point was: The change of plans would change everything else as soon as I would return home. It meant asking myself what my next steps would be and how my life decisions would look like. I was on an island - not stranded, but still by myself - and so I had no chance to blank out my thoughts and to avoid decisions that would need to be brought to an issue two months earlier than planned.
Making decisions is super hard when it means that we need to decide between things that aren´t directly linked to our dreams, but indirectly by giving us the (financial) base to realize them over time. Plans are ideas, nor more nor less. People who always fulfill plans in a every detail have usually reached an impasse, they are not flexible and don´t listen to their intuition because they got stuck with an idea and are afraid of what people might think if they wouldn´t follow through. People who never fulfill their plans are stuck in their dream images and afraid to ever get started and to really do something to fulfill their dreams, they don´t get anything done because they don´t ever try to. And then there are people who are in between: They make plans, but know that plans are just ideas that may change over time, but need to be done and followed through to a certain degree to improvise from there. They accept that sometimes it´s not so much the plan, but the goal that matters, so they listen to their intuition and decide between what´s worth the struggle and what´s worth reconsidering.
In the end it´s always about making the best of every situation. So did I. No reason to leave the island, just change the surroundings! Getting tan and freckles is a nice thing, right? I´m still learning and often don´t care about plans, but about actions. Or followed plans instead of taking action. I just know that what matters is to do what´s best for you. Not in an egocentric way of living, but in a true and conscious way of being. It´s a process. And it´s worth it. It´s thanks to going with the flow while having a goal, that my life has been a big funny, crazy, absolutely amazing adventure.
 Check out my insta story and follow me on Instagram and Facebook. xx